Welcome to

Charlies Comics Cards and Games started in my garage
in Silver Lake New Hampshire November of 1991.
After 6 different locations throughtout
the Mount Washington Valley.
I am now located in the Timberland Outlet Center
in the heart of North Conway N.H.,
near Settlers Green OVP, between where L.L. Bean used to be
and Friendlys Restaurant.
The Mount Washington Valley is known for it's year round activities,
such as skiing, fishing, boating, hiking, swimming,
and of course outlet shopping.

2009 Free Comic Book Day was a great success,
I look forward to 2010.

"BELLA SARA"
Charlies now sells Bella Sara Trading cards.
Come in and buy your packs here and you will receive
a FREE promo Bella Sara card available only at
Hobby Stores while supplies last.
Please visit their website to register your codes.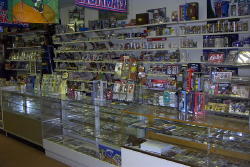 NEW!!! Jeff Locke Bowman Chrome Prospect Cards.
These are his first rookie cards with a major card company. $4.00 each.
I also have a limited supply of
JEFF LOCKE minor league regular rookie cards for $1.00 each,
with a limit to 5 to a person,
and rookie cards with autographs for $12.00 each.
Get them while you can, supplies are running low and
getting harder for me to replace.





I am looking to purchase TOM BRADY Rookie cards,
certified autographs and memorbilia cards.
All cards MUST be mint. I am paying 20% of full book.


"NEW ENGLAND PATRIOTS HOMEPAGE"





MAGIC THE GATHERING
ZENDIKAR PRE-RELEASE TOURNAMENT


will be held at 12:01 P.M. Saturday September 26th 2009.
This will be a sealed event which will be $30.00.
You will receive 6 packs of Zendikar,
which you will make a deck from,
and a "Rampaging Baloths" Mythic Rare
Pre-Release Foil Card just for entering.
Packs of Magic Zendikar will be handed out for prizes.
Amount will depend on turnout.


MAGIC ZENDIKAR LAUNCH PARTY TOURNAMENT
will be Saturday October 3rd 2009 at 12:01 P.M.
This will be sealed event,you will receive
5 packs of Magic ZENDIKAR
to build your deck with, you will also receive
a foil Release "Valakut, the Molten Pinnacle" Mythic rare card.
Packs of ZENDIKAR will be awarded as prizes, amount given away
will depend on turnout. Price for this event will be $25.00.


MTG FRIDAY NIGHT MAGIC


Every Friday Night we host Friday Night Magic Games.
Starting on October 2nd we draft ZENDIKAR,
All FNM events start at 6:30 P.M., price is $9.00


Please check out our
"STORE EVENTS"
page for more information on
Friday Night Magic Tournaments.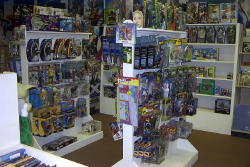 We also have Guitar Hero and Dance Dance Revolution
to play on Playstation 2. Rates are $2.00 per 1/2 hour,
or $3.50 per hour. Sorry no all day rates.

FREE SPORTS CARD PROMOTIONS


Over the last 4 years, some of the Major League Sports Clubs have
have been joining up with Sports Card hobby shops,
like mine, and card companies to offer
free cards to sports card enthusists
and collectors.
Generally throughout the year I do most if not all of the
different programs offered by the different leagues,
and card companies such as;Topps, Upper Deck,
MLB, NBA and the NFL.
At this time I have not seen any programs for the NHL,
but hopefully they have something in the works.
If you would like to see what some of these
programs and incentives are
to go to this page please click on this link.

"GO RED SOX"

I have an Amazon Storefront where I have
some of my store inventory listed for sale.
Please click on the Amazon link below
if you wish to see some cool stuff I have for sale.


My address is:
Charlies Comics Cards and Games
1675 White Mountain Highway Rt 16
Timberland Outlet Center
P.O. Box 3246
N.Conway, N.H. 03860
1-603-356-7020


OUR NEW HOURS BEGINNING JUNE 22ND
Sundays; 11:00 to 5:00
Mondays; 11:00 to 6:00
Tuesdays; 11:00 TO 6:00
Wednesdays; 11:00 to 6:00
Thursdays; 11:00 to 6:00
Fridays; 11:00 to Midnight
Saturdays; 11:00 to 7:00





"POKEMON LEAGUE & TOURNAMENTS"

Anyone interested in being involved in Pokemon Game Events
please let me know if you would like to join.
I need at least 8 people to host sanctioned events.
I am setting up leagues and tournaments with Pokemon USA
as we speak. Please drop me an e-mail, call or stop in
and give your feedback.


And of course for those of you
who have been to my store
you have probably met my dog
"PEARL"


We adopted her in 1999 from
"HARVEST HILLS ANIMAL SHELTER"
in Bridgton Maine.
She is a great dog and loves everyone.
If you come to visit,
please bring a bone for her.



Created & Published by: Patrick Smith April 19, 1998.
Maintained and Updated by Charles Ramsdell Jan.23th 2010.
And a special thanks to my friend Ed Davidson
for designing my new store logo!

"GOD BLESS AMERICA"